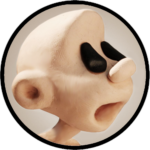 I am an artist with more than ten years of international experience as a director, Stop Motion animator, CGI animator, painter and sculptor. The projects on which I have worked have been awarded and selected at the major film festivals such as Cannes, Annecy, Oscar, Bafta, Sundance, among others.
I am currently working for Netflix on the new Henry Selick Feature Film Wendell and Wild.
I worked for the feature films Missing Link, Ma vie de Courgette, Chuck Steel: Night of the Trampires and Pirates! Band of misfits.
For studios like Netflix (US), LAIKA (US), Aardman Animations (UK), Blue Spirit Productions (France), Visual Distractions (Germany), Vivement Lundi! (France), NFTS (UK), Clay Animation (Spain)
get in touch or follow me in the social media

juan@juansotoanimation.com
(503)5539802 +34 658778205